Echuca Moama Rotary Vocational Service Dinner 28th November 2017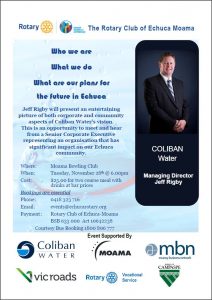 Click here to download the flyer. Vocational Dinner Flyer
When Paul Harris established Rotary together with Gustavus Loehr, Silvester Schiele, and Hiram Shorey in 1905 the club was to be what these days is now called a networking group. Harris had provided legal services to the others who had been disadvantaged by unethical business practices. It wasn't until the following year that Rotary adopted a philanthropic and civic citizenship philosophy to add to its previous tenants of vocational membership.
In more recent times the community and world service aspects of Rotary have predominated frequently through our charity the Rotary Foundation. However our Echuca Moama Club has continued to champion good business practices both private and public and encourage the business community to lead the way in both Ethical Practices and a Community Service outlook. All Rotarians represent there vocation to the club members.
To this end our club here in Echuca Moama has regularly undertaken visits to local businesses so that members can learn about them and there management techniques. To this end we will be holding a dinner at the Moama Bowling club that will be a forum for business and senior public service people to meet each other and at the same time hear a presentation from one of our most senior corporate and public utility directors Jeff Rigby of Coliban Water. We are fortunate in obtaining the support of Coliban Water, Campaspe Shire Council engineers and officers, Vic Roade's Echuca Moama Bridge Project Office, Moama Bowling Club, and the Murray Business Network. It will be a both entertaining and informative event at a nominal cost.
Please book your seats now!!!